Improve the Health and Beauty of Your Trees With Tree Trimming Services
Do you have rogue tree branches hitting your roof and keeping you up on windy nights? Did a powerful storm snap a limb from your oak tree, and now it's just hanging there—waiting to fall on your children or pets?
Whether you need emergency tree cutting or scheduled tree trimming and pruning services to promote the health and beauty of your property's trees, Doug's Tree Service has you covered!
With over 20 years of experience, we can provide expert tree trimming and maintenance for homeowners and businesses in Lancaster and York, PA. Our certified arborists and experienced tree service crew members have the specialized knowledge and the highest quality equipment to care for your property's valuable trees the right way.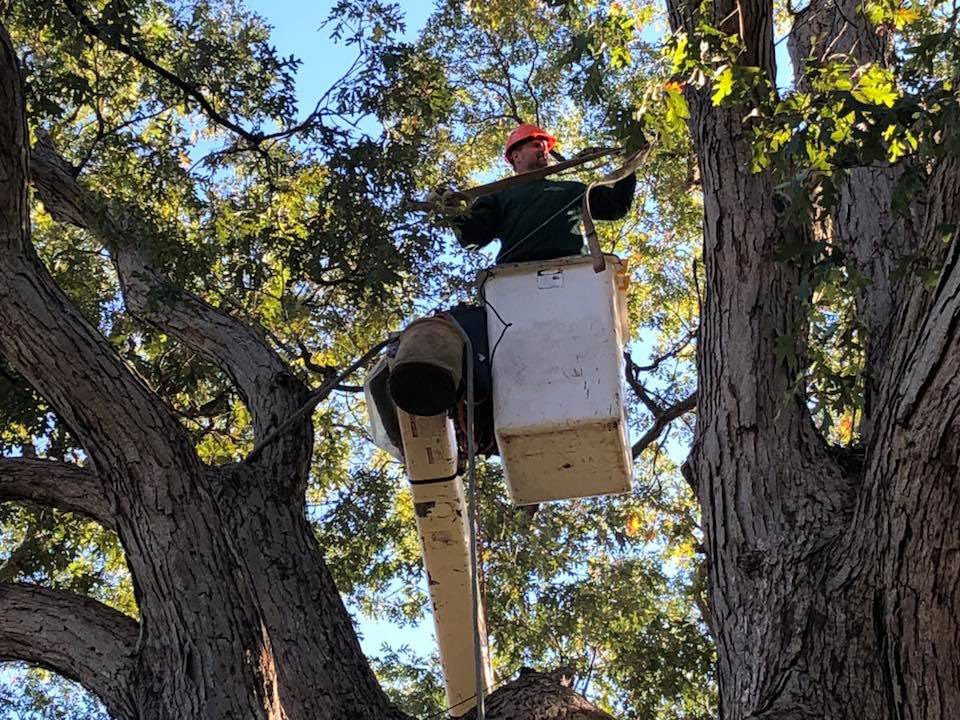 ---
Tree Trimming Has Never Been Easier!
If you're like most homeowners, trimming or pruning your trees isn't high on your list of priorities. It's a dangerous job that requires hard, physical labor and equipment that you may need to rent if you don't have it readily available. Plus, you have to find the time to prune your trees, which can be challenging to do with your busy schedule. You deserve to have beautiful trees with proper pruning to improve the health and appearance of the tree.
Contact Doug's Tree Service for professional tree trimming that removes the burden of pruning and gives you the properly formed, stunning trees that enhance your property's aesthetic. We make it easy to remove dead branches, shape your trees, and ensure your trees continue to grow. And all you have to do is: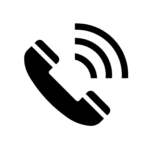 Step 1: Give Us a Call
Contact us to tell us about your tree trimming needs and schedule a time for our certified arborists to give you an estimate.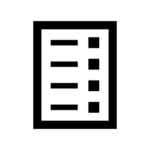 Step 2: Get a Free Estimate
We'll assess the work needed for the trees on your property and give you a free estimate for our crew to take care of them.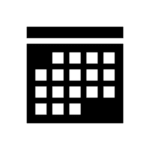 Step 3: Schedule Services
After you accept our estimate, we'll schedule services with you, arrive on time, and clean up after ourselves.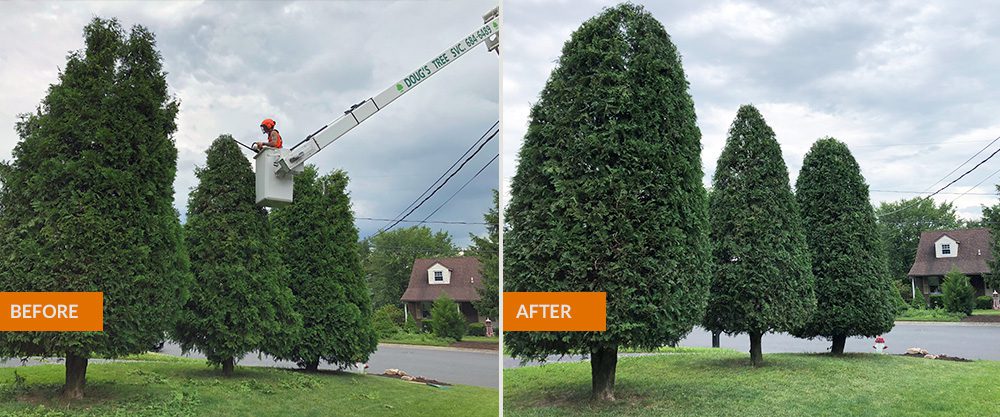 Tree Trimming Service and Maintenance for York and Lancaster, PA, Properties
You may not think about all the benefits of properly maintaining the trees on your property. Whether you have large pine trees, small fruit trees, or maple or poplar trees in your yard, proper pruning of the branches and limbs can minimize damage from storms and help detect diseases before they advance.
Proper tree care includes routinely scheduling tree trimming service to take care of the many issues that can plague your property, including: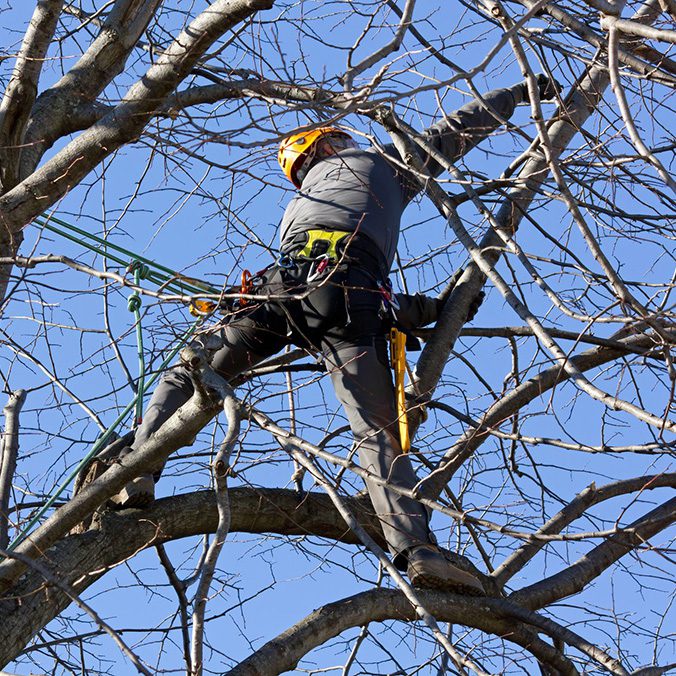 Removing branches that are rubbing against one another
Eliminating limbs that interfere with building facades, wires, roofs, gutters, power lines, chimneys, or which obstruct sidewalks or streets
Getting rid of weak or dead limbs which pose a hazard or may lead to decay of the tree
Removing disease-infected or insect-infested tree limbs
Creating better structure to reduce wind resistance and decrease storm damage potential
Removing limbs damaged by adverse weather conditions
Eliminating or thinning out branches to increase light penetration
Improving the shape or silhouette of the tree
Training young trees
When you trust Doug's Tree Service with your tree trimming needs, we'll ensure that our expert crew members do a great job removing the necessary branches from your trees and cleaning up after themselves. Our goal is to have your yard look like we weren't even there—except for the adequately trimmed trees, of course!
Please review our list of common tree maintenance terminology to understand better the words we use to describe the work we do, and when you're ready to schedule your service, contact us!
---
What's It Like Working with Doug's Tree Service?
As certified arborists, our goal is to have the utmost respect for your trees and property. As such, we work hard to ensure thoroughly completed jobs and your happiness at the end of the day. Check out this satisfied customer's review of our service:
"I had 2 massive Silver Maple trees in my backyard that I needed removed. The next day, Doug's Tree Service showed up and gave me an excellent estimate, almost half of the other 4 estimates I've received from their competitors. I decided to go with them, and it was the best decision I could've made. They were back out here within the week and had the trees gone as if they were never there, in 2 days! They also took out another small spruce tree for me, free of charge. I would highly recommend them to ANYONE who needs a tree taken out/trimmed. Everything was exceptional/professional from the work, clean up, their crew all the way down to the customer service. 110% best tree service around."

–Brandon W. via Google
---
Trust the Certified Arborists with Your Next Tree Trimming Job!
Not all tree trimming services are the same. Many who perform tree pruning or trimming lack the proper training to safeguard the life of your trees. Their misguided efforts can lead to stunted tree growth, disease or dysfunction, or permanent damage to your trees or property.
Choose the company that arrives on time and has the knowledge and skills to care for your trees properly. Our tree maintenance services are available throughout Lancaster and York, PA, and the surrounding area. We can even help with things like:
Sealing tree wounds
Stabilizing a tree that has been struck by lightning
Evaluating and diagnosing tree infections or diseases
Doug's Tree Care is the best choice for tree trimming and maintenance needs in Lancaster and York Counties. Get started today with a free quote!